UPCOMING WINE TOUR 31 JULY
The wine tasting will be held on Saturday, the 31st of July at Boutique Winery, La Chimera d'Albegna, located close to Capalbio. The winery is about 1.1/2 hours from Rome. We can also assist you with accommodation if you would like.
The tour around the Vineyard begins at 18:30, including tasting a few wines and guiding you through the cantina process from start to finish. After this, a Syrian/Tuscan dinner will be offered after, under the breathtaking La Maremma sky.
 
€35 per person (Kid's below 10 are free)
 
Book your experience by emailing us or sending us a WhatsApp message:
Yummy@hummustown.com |  338 5827961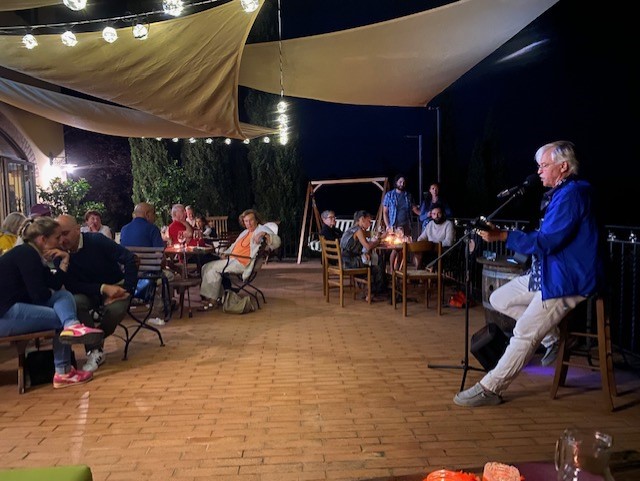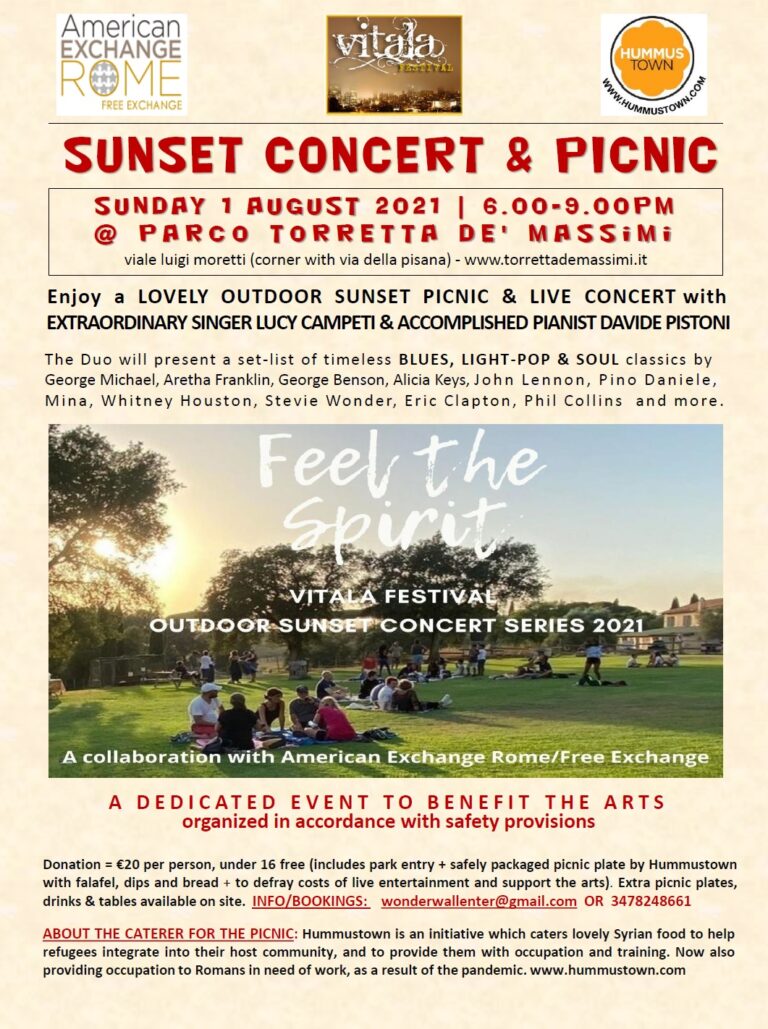 WHAT: SUNSET PICNIC & CONCERT
WHEN: Sunday 01 AUGUST 2021 | 6.00 – 9.00 PM
WHERE: Lovely nature venue: Parco Torretta de' Massimi in viale luigi moretti (corner with via della pisana)
WHY: Enjoy LIVE  MUSIC & SUNSET OUTDOOR PICNIC with a delightful setlist and help benefit the arts.
The evening will also include an ENTERTAINING  COMEDY ACT!
ARTISTS: Enjoy  a  LOVELY  LIVE  CONCERT with EXTRAORDINARY SINGER LUCY CAMPETI & ACCOMPLISHED PIANIST DAVIDE PISTONI
SETLIST:  The Duo will present a set-list of timeless BLUES, LIGHT-POP & SOUL classics by 
George Michael, Aretha Franklin, George Benson, Alicia Keys, John Lennon, Pino Daniele, 
Mina, Whitney Houston, Stevie Wonder, Eric Clapton, Phil Collins  and more.
CATERER: Hummustown which caters lovely Syrian food (and more!) to help refugees integrate and to provide them with occupation, skills and training. Now also hiring Romans who have lost their jobs due to the pandemic. Sharing work and helping integration.
EXTRA TREAT ORGANISED BY HUMMUSTOWN FOR THIS EVENT: REFRESHING SUMMER
MOJITOS & SPRITZ!
SAFETY: social distancing is in place in the park, the event is organized in accordance with safety provisions
TIMING: The welcome desk is located at the park upon entry and it will be open from 6.00 pm in order to allow time for the entrance and safety procedures which are required. There is a short walking path in the lovely park from the welcome desk to the main picnic and concert area.
The concert will take place approximately from 7.00 to 9.00pm
DONATION: €20 per person, under 16 free (includes park entry + safely packaged picnic plate by Hummustown with lovely falafel, dips and bread + to defray costs of live entertainment and support the artists). Extra picnic plates and drinks available on site as well as picnic tables with seating
BOOKINGS & INFO: wonderwallenter@gmail.com OR 3478248661 
BOOKING IS REQUIRED FOR ORGANISATION REASONS
PLEASE NOTE: DOGS ARE NOT ALLOWED FOR PARK REGULATIONS
THE OUTDOOR SUMMER CONCERT & PICNIC EVENTS ARE A COLLABORATION BETWEEN VITALA FESTIVAL, AMERICAN EXCHANGE/FREE EXCHANGE & HUMMUSTOWN.
JOIN US FOR THIS WONDERFUL OCCASION! 
WE HOPE TO SEE YOU!
CONCERTO & PICNIC AL TRAMONTO – Sabato 24 Luglio 2021 | dalle 17.30 alle 21.00 @Parco Torretta de' Massimi
PER RILASSARSI, GUSTARE UN BUON PICNIC & ASCOLTARE MUSICA LIVE ALL'APERTO CON IL DUO MUSICALE DI TOMMASO IPPOLITI (voce, chitarra) & ALESSANDRO FEA (chitarra)
Presenteranno un repertorio vario con intramontabili classici del soft rock, pop e blues, rivisitati in una particolare forma elettro-acustica, da The Smiths a Depeche Mode, Shawn James, Steve Winwood, Chris Isaak e altri ancora.
LA SERATA INCLUDE UNO SKETCH COMICO presentato da TEATRO MULTILINGUE con gli attori FRANK BAJ & DUNE' MEDROS.
PICNIC INCLUSO confezionato dal catering HUMMUSTOWN con ottimi falafel e sfiziosi contorni. Hummustown è un'organizzazione che offre un catering di ottimo cibo Siriano (e non solo!), allo scopo di sostenere e offrire occupazione ai rifugiati ma anche a coloro che hanno perso il lavoro in seguito alla pandemia (www.hummustown.com)
PER QUESTO EVENTO, COME SPECIAL EXTRA, HUMMUSTOWN ORGANIZZERA' ANCHE DEI GUSTOSI E RINFRESCANTI MOJITOS!
Ulteriori dettagli e info su contributo ingresso e prenotazioni sono disponibili nella locandina. Si suggerisce la prenotazione per motivi organizzativi. 
NON SONO AMMESSI ANIMALI ESTERNI PER REGOLE DEL PARCO.
Evento realizzato a scopo benefico in sostegno degli artisti e svolto nel rispetto delle vigenti disposizioni di sicurezza.
Apertura Parco alle 17.30, inizio concerto alle 18.30.
Speriamo di vedervi! Grazie del sostegno!